Featured Story

End-of-Year Promotions and State Workout

End-of-Year Promotions and State Workout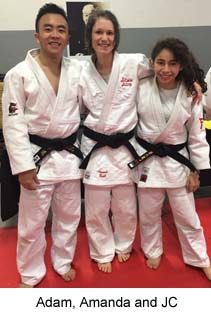 We would like to thank our friends at Sparta and Sparta Judo for hosting the End-of-Year Promotions and State Workout. It was an early start to the day as JC Camacho, Adam Vang and Amanda Buell went in front of the Indiana Judo promotions board. With many fellow judokas, friends and family in attendence all three passed. JC and Adam received their Shodan and Amanda received her Sandan.

After promotions an eager group of around 50 judokase took to the mat for a workout. Sensei Mario got us started with an active warm-up to get the blood going. We followed up with moving Uchikomis from several angles. Then Sensei Brad Daniels showed a gripping sequence into a throw. We worked on this technique and followed up with Randori. With the number of people working out we were able to have several randori matches. The younger group were able to practice on the smaller mat and the adults and juniors on the larger mat. There were some fun matches to watch.

This was an exciting event and we hope that if you were not able to make this one you will make plans for the next. With the number of participants this was a great chance to workout with someone new. We are currently looking into dates for not only the next Promotions and State workout but also a quarterly State workouts.

Thank you to everyone who was able to join us and we look forward to seeing more of our fellow Judokas at the next event.